Welcome to StarboardBeam.com
Critters of The Sea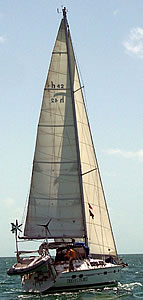 The Seas are full of a variety of life. In the information to follow, you will find links to a variety of "Critters of the Seas". Check these links to increase your knowledge about those life forms moving through the waters below the hull of your boat. Some knowledge may lead you to give up swimming or take up a new food delicacy. Who knows??.
Some Jelly Fish Related Sites
Sea Nettles and Jelly Fish of the Chesapeake Bay - A NOAA Site providing real time distribution of Sea Nettles in the Chesapeake Bay
Jellyfish in the Chesaepeake Bay and Nearby Waters - Prepared by University of Maryland System Center for Environmental and Estuarine Studies
Ghostly Nettles Haunt Bay - U.S. Fish and Wildlife Service's Chesapeake Bay Field Office in Annapolis
Jellyfish Facts - On-line site for a lot of facts about Jellyfish including facts on how to raise your own Jellyfish and Kids/Beginners Guide on how to do it.
********************************************
*****************************************************************